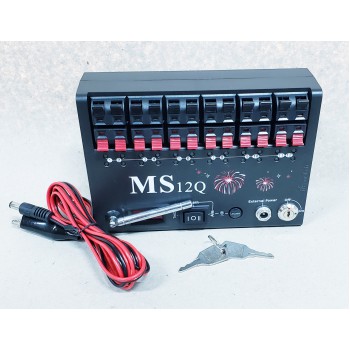 MS12 cue wireless firing system
12 MS cue stand alone firing unit. We have done research for the best quality Chinese made firing system and come up with these dandy little units. A+ quality unit. Comes 1 receiver with 12 cues, 1 remote, alligator clips & 2 keys. Use range is 100 meter or 300 feet.
Optimized Dual Power Supply solution is adopted in MS system, and advanced technology in hardware and software provides reliable and steady Overload Protection. You don't need to worry about the system will burn, and even don't need to replace fuse inconveniently at all. The system is solid like a rock and can be used year and year to save your money!
With RS485 communicating ports, the receiver is extendable to work as a Sub-receiver unit. When many MS receivers work with a MASTER unit through the ports, a GROUP SYSTEM is easily built. This function is useful for you to extend or upgrade your firing system in the future.
Other features:
Dual Working Modes-Fire 12 cues manually; or fire 12 cues one by one in sequence;
Low internal batteries warning to avoid failure;
Excellent RF communication.
IDs are visible through digital readout.