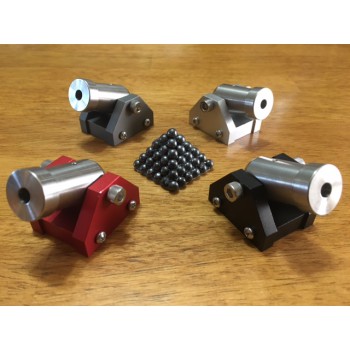 -38%
.22 Cal MIghty mini cannon
These were made for 2MM fuse which we currently can not get. So you can drill the hole out to 1/8 and use the american fuse.
We will drill them out for you if you let us know at checkout.
UNIQUE item From ONLY Pyrocreations!
Our .22 Cal lead ball shooting mini cannon is sure to be an absolute hit for EVERYONE!

Shoots a .22 cal lead ball, Since the bore is .22 cal you can buy any cleaning supplies from any place that sells rifle or pistol cleaning supplies. You will clean this cannon like you would any .22 cal pistol. We include a ramrod and 1 steel ball with every cannon, as a starter or to put next to your mini cannon when it's on display. Our cannons can be used with black powder, Pyrodex, Triple 7, or any powder from fireworks. You can also make your own powder from match heads. .3cc of black powder or pyrodex seems to work best.

There are two knobs to adjust the barrel up and down, for aiming, the carriage is aluminum and the barrel is solid stainless steel and built to last. The Mini Cannon is built and works exactly like the antique cannons of Napoleon's time or the mortars used in the American Civil War.
NOW available in 4 colors.
Red, Silver, Gun metal and black