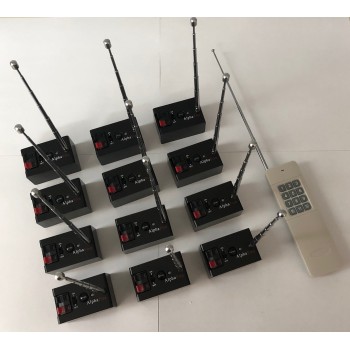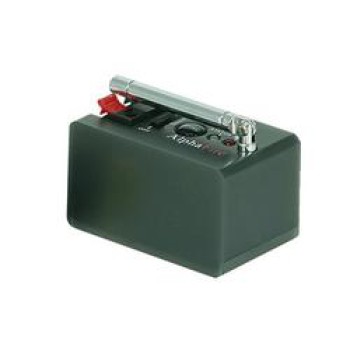 Alpha fire 12Q wireless firing system 9th version
The latest distributed firing system.


The 1st generation of AlphaFire module was designed in 2008, the newest firing module RF1XG9 is the 9th generation and is with important improvements comparing with the 6th and 8th generation, especially its Full Current Output technology make it more powerful and is with the ability to fire 15 standard igniters and Nichrome Wires or reuseable igniters, also its new feature Firing DEMO helps a lot to check synchronization. Please view the video to see how it performs.

Totally it can be used more easily and conveniently.

The firing module RF1XG9 is FCC and CE certificated.
Some of the matching transmitters / remotes are also FCC and CE certificated. The firing module can work with long range transmitter to work out 2000m range.




Advanced Technology!
The current module is the 7th version, the circuit and program are optimized again and again, and a MosFet is adopted. It is safe, you don't worry accident happens.

Advanced Technology!
ARM MCU is adopted and with weaker interference; Resetting Resistant Circuit makes the system with the ability firing Nichrome Wires and reusable igniters.

Advanced Technology!
Special design to ensure the firing module will not burn even though the igniter is short. The system is solid like a rock!

Handy clips for you to fix an igniter easily.

1x 6LR61 9V battery, easy to be inserted and can fire 10 standard igniters at most in series connection.

*Quality battery must be used to fire 10 igniters.

Simplier and easier layout.
Elegant Profile.
Specifications
Firing Module
Model No.: RF1A2 (the 7th version of AlphaFire module)
Type: RF Radio, OOK, 433.92MHz
Power: 1x 6LR61 9V Battery
Decode: Learning code, 1,000,000 codes
Firing Current: >750mA, Max.6A.
Test Current: <20mA
Sizes: L62xH46xW38mm, antenna is retractile and can be folded
Color: Semitransparent Black.

Does not come with Battery's. Qty 1 - 9 volt battery required per receiver and one 9 volt battery is required for remote